Symptoms
You receive a "Program Wants Internet Access" message from McAfee on the computer Mysammy Communication Service is installed.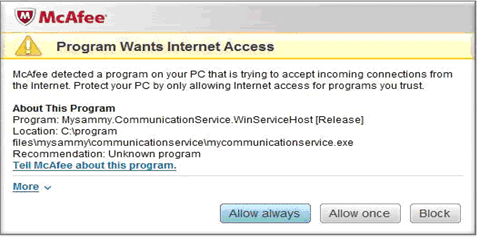 In MySammy Manager there is no new data from the machine that has been blocked by McAfee.
[MySammy Install Directory]\CommunicationService\OfflineCache folder on the machine has numerious files with numeric names. This indicates MySammy client is unable to send data, therefore caches the data locally.


[MySammy Install Directory] is usually C:\Program Files\MySammy.
Cause
MySammy Communication Service needs the ability to send data to MySammy servers as well as the ability to receive data from Agent Services installed on the same machine and/or Agent Services installed on other workstations within the same network. When McAfee detects that MySammy Communication Service is attempting to accept an incoming connection, it warns users by displaying the above screen. If the user does not choose to allow access, MySammy Communication Service will be blocked.
Resolution
The following are step by step instructions to configure McAfee to allow MySammy Communication Service Full Access. The screenshots provided may be different if you are running a different version of McAfee.
Step 1 - Open McAfee Security Center and go to the Navigation screen (top upper right 2nd button)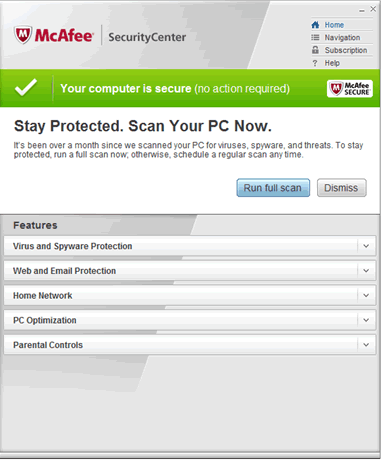 Step 2 - Go to Firewall Configuration (3rd button)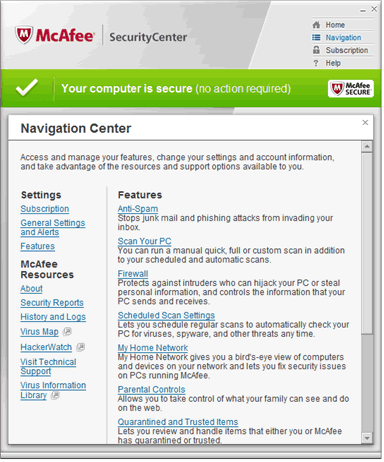 Step 3 - Go to Program Permissions (4th Section)


 
Step 5 - Find "Mysammy Communication Service WinServiecHost [Release]" in the program list.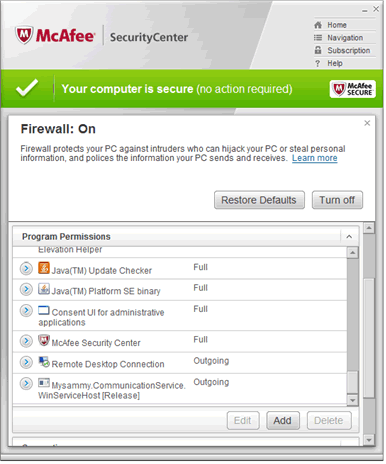 Step 6 - Edit the program permissions by changing to "Full"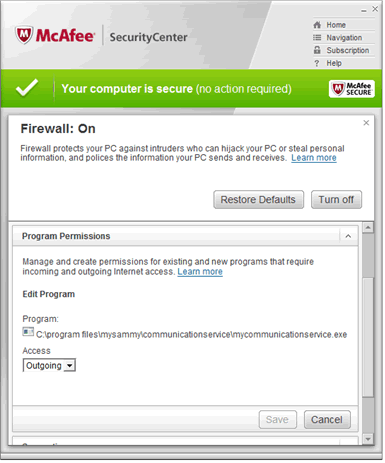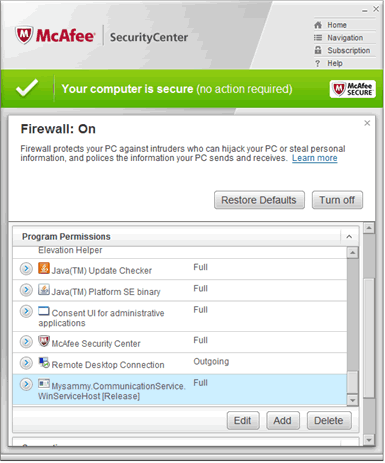 More Information
Mysammy Client has two executables which require network access.
Mysammy Communication Service


Requires both incoming and outgoing access
Receives data from Agent Service installed on the same machine or from other machines on the same local area network (default port 4137, configurable)
Sends data to MySammy Servers (via port 443)

Mysammy Agent Service


Requires outgoing access
Sends collected data to MySammy Communication Service (default port 4137, configurable)
If you have firewall hardware between your local area network and the internet:
Ensure the machine Communication Service is installed on has outgoing access on port 443
If you have firewall hardware between machines running Agent Service and the Communication Service machine within your local area network (this is uncommon)
Ensure the machine Communication Service is installed on has incoming access on port 4137
Ensure the machines Agent Service are installed on have outgoing access on port 4137
If you have firewall software installed, such as (McAfee or Symantec internet security firewall)
Ensure the Agent Service program has outgoing access
Ensure the Communication Service program has full (incoming and outgoing) access